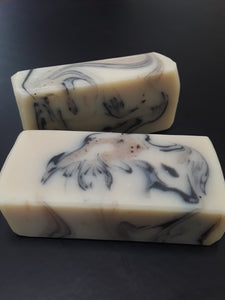 Shave & Shampoo bar
This bar is not for the faint of heart! With a rich, masculine scent and low, foamy lather this bar is perfect for shaving, shampooing, and washing of all kinds.. the top notes are heavy with bay that fade to a balanced earthy tone with basil and musky scents of sandalwood combined with botanicals for a smooth, lasting scent.
This bar omits olive oil and replaces it with a rich combination of butter and other oils to provide conditioning benefits and rich lather without the weigh down of heavy oils. It's truly one of a kind!!
Ingredients: rice bran oil, lard, coconut oil, castor oil, shea butter, cocoa butter, sodium hydroxide (lye), herbal tea, distilled water, kaolin clay, activated charcoal, shikakai powder. Dark patchouli, sandalwood, Himalayan cedar, rosemary, juniper, lavender, bay, basil.