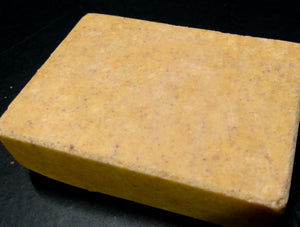 **Seasonal** Pumpkin Salt Bar
This is another great sea salt bar made with a great nourishing oil blend using coconut, shea and pumpkin seed oil. This bar is packed full of himalayan pink sea salt for beneficial skin nutrients and a great exfoliation. The scent is light and slightly camphorous/spicy with crisp refreshing minty top notes. One of my personal favorites for performance and uplifting scent. 
Ingredients: Coconut oil, shea butter, pupkin seed oil, lye, distilled water, calendula/chamomile tea, himalayan pink sea salt, kaolin clay, sea buckthorn oil, red brazilian clay, frankincense, rosewood, clove, ginger, peppermint, spearmint, eucalyptus.