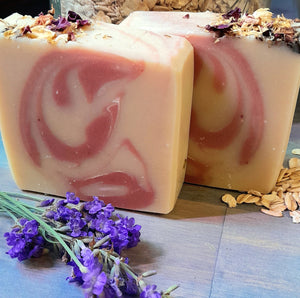 Lavender Oatmeal Honey Soap
This is a beautiful and gentle bar that was inspired by a guest at the Ovenell's Heritage Inn who requested that I add some gentle lavender to the Oatmeal Honey soap and provide it for those with sensitive/problematic skin. So here it is, the same great base recipe with a strong combination of nourishing oils and great lather. The addition of lavender and a 3% dilution of neroli and jasmine in jojoba oil make this scent floral, soft and relaxing along with providing gentle benefits for all skin types.
Ingredients: Coconut oil, olive oil, avocado oil, shea butter, rice bran oil, castor oil, Lye, chamomile tea, coconut milk, Honey, colloidal oats, 3% dilution neroli in jojoba oil, 3% dilution Jasmine in jojoba oil, lavender essential oil, rose clay, dried flower tops.