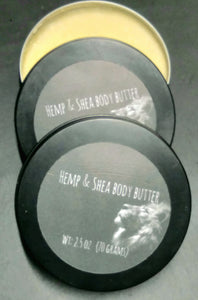 Body Butter "Hemp & Shea"
Regular price $12.00 Sale
This is a great moisturizer. ..including hemp oil for dry skin support. This butter is medium/heavy (so will take several minutes to absorb). Great for extra dry, damaged or cracked hands. The oil blend is gentle enough to use for a body and/ or facial moisturizing. Scent blend includes helichrysum, cedar and light top notes with lavender and litsea, giving an earthy, scent with hints of lavender and lemon.
Ingredients: shea butter,  coconut oil, hemp oil, avocado oil, vit. E, rose hip seed oil,  arrowroot powder, essential oils: helichrysum, Himalayan cedar, frankincense, lavender, litsea cubeba, bergamot.